The Best Data Teams Start Small
Hype and buzz surrounding big data means businesses are spending time and money assembling data teams, often starting with a large team that struggles to produce results. Just as humans need to crawl before they can walk, the best data teams start small and progress to grow naturally into mature teams.
This white paper covers the primary ways in which data teams progress from:
Ad hoc to scalability
Fragmentation to collaboration
Risk averse to risk taking
Passive to creative
Unknown to acclaimed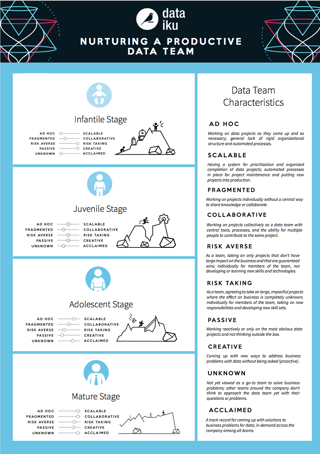 Download the white paper for the full infographic!
It also walks through essential components to nurturing data team growth, including:
Each of the stages of a data team.
Characteristics of teams at each stage.
Steps and milestones required to progress and grow a team from one stage to the next.
The importance of creating a company-wide data culture.