Read Our Survey Report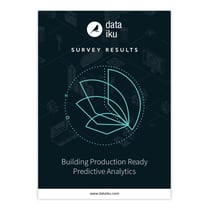 Everybody talks about how to build and optimize models, but not many worry about taking those models to the engineering team and getting them into production.
Yet having models running in production is the only way to create lasting measurable value for your business. And today production issues are the main reason many companies fail to see real benefits come from their data science efforts.
We wondered how succesful companies handle their production environment and what processes they have to build production-grade data products. So we asked thousands of companies how they did it, what was easy, and what was tough. And we analyzed their responses in depth.
In our production survey report, you'll get:
Insights on how companies handle all aspects of the production process, from best operating procedures to risk management and functional monitoring
An in-depth look at the four ways companies small or big handle the transition from design to production
Key takeaways and the eight actionnable steps to consider when building a production pipeline