NEW YORK, September 12th – Dataiku, leading hub for Enterprise AI, has unveiled Dataiku 5 a new, major upgrade to their software platform. Dataiku 5 gives data teams the power to build and deploy enterprise AI solutions at scale. The latest version of Dataiku not only includes full containerization capabilities with Docker and Kubernetes, but it also welcomes deep learning to its supported libraries, improves AutoML, and introduces new comprehensive documentation features that allow for global, distributed data teams to build powerful applications more efficiently.
"In Dataiku 5 we are unlocking the ability for global teams to build even more powerful AI-driven services," said Florian Douetteau, CEO of Dataiku. "We envision the future of AI application development as a global network of people within an organization, all of different backgrounds and skill levels, contributing to game changing business applications. We've taken a major step towards that vision in our latest release."
Dataiku 5 enables scalable Enterprise AI across an organization by introducing a host of new features, namely:
Full Containerization with Docker and Kubernetes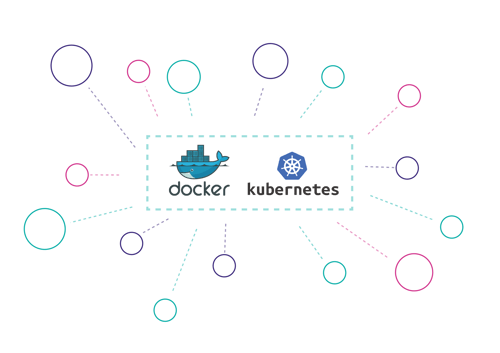 'Containerized' environments are self-contained entities that can be moved to various servers and allow organizations to load models and serve requests in a few clicks. Dataiku 5 takes Docker and the power of "containerization" to in-memory processing of Python & R recipes, as well as in-memory model training and scoring. To run in-memory jobs, Dataiku can now create a Docker image containing the code and required libraries or packages, and automatically deploy it to a Kubernetes cluster for computation elasticity, allowing for more scaling and easier isolation of resources.
Maritime Containers were a revolution in shipping that shaped the global economy as we know it today because they enabled a global network of transportation for goods. Similarly, Virtual Containers are changing the way we develop and deploy applications in the Enterprise. With maritime containers, the week point is always the first and last mile: how can you fill container and ultimately deliver the goods to the end customers. Similarly, in order filling containers with AI capabilities is today requires to master and connect complex technologies. Delivering machine learning in containers with a click is the revolution being created with Dataiku 5.
Visual Deep Learning with TensorFlow and Keras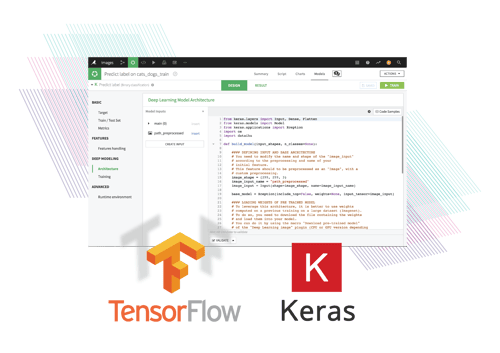 Dataiku 5 welcomes Keras, the neural network library written in Python, to its ever-growing family of supported open-source libraries and technologies. Users can now define the architecture of their deep learning models directly from the Machine Learning GUI. Plus, due to the availability of code samples and Tensorboard, even the members of the team who aren't familiar with deep learning architectures can now participate in building and monitoring these more complex models and AI applications.
Comprehensive Documentation with Group Discussions and Wikis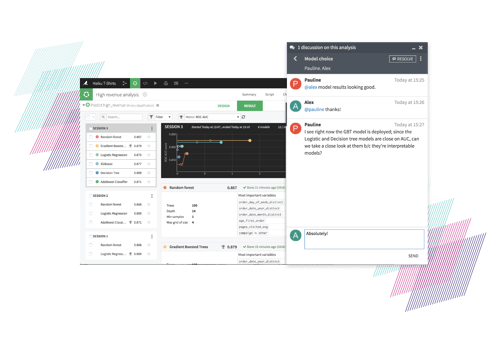 As organisations are creating more AI-enabled services, the lack of documentation creates risks and rising maintenance costs. Encouraging strong documentation in AI projects promotes sustainable reuse of knowledge from one project to another and to allow teams to develop the skills critically needed to be successful. Users can now easily share and find knowledge with Dataiku Discussions. In Dataiku 5, anyone can create, subscribe, comment, interact with teammates or subject matter experts on their chosen topics of interest. In addition, organizations can now create Wiki spaces within Dataiku for collaborative creation and editing of documentation.
Enterprise AI is on track to change business processes and efficiencies in the near future and Dataiku 5 is the launching point for data teams to begin creating powerful applications all on one single collaborative platform. Whether all in a single office or distributed across difference continents, the powerful collaboration features inherent in the Dataiku platform make it ideal for organizations looking to scale their data operations.
Currently, hundreds of companies, from SMBs to Fortune 100's and many others, use Dataiku on a daily basis to enable their teams to build, deploy, and monitor predictive data flows and build enterprise AI applications that solve industry-wide problems like fraud, churn, supply chain optimization, predictive maintenance, and much more.
To learn more, read our release notes.
About Dataiku
Dataiku is the centralized data platform that moves businesses along their data journey from analytics at scale to enterprise AI. More than 200 customers across retail, e-commerce, health care, finance, transportation, the public sector, manufacturing, pharmaceuticals, and more use Dataiku to power self-service analytics while also ensuring the operationalization of machine learning models in production.
Dataiku was founded in 2013 and raised a seed round of €3 million followed by $14 million Series A round led by FirstMark Capital in October 2016. In 2017, Dataiku doubled in size and tripled its revenue, culminating in a September 2017 announcement of their $28M Series B funding round led by Battery Ventures along with FirstMark Capital, Alven Capital, and Serena Capital. They currently employ more than 175 people between the headquarters in New York and offices in Paris, London, and Munich.
Learn more at www.dataiku.com